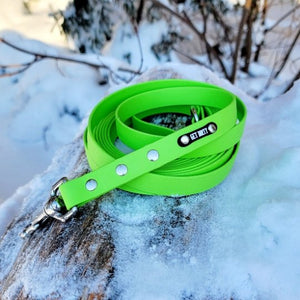 Made with the traditional bolt snap that so many love and depend on, this Biothane long line offers classic style and functionality all in one.  This is the perfect line for training, walks on the trail, the beach, camping, or anywhere you can think of where you want to give your dog a little room to roam but need to keep them under control. 
The width of this line is great for large to giant sized dogs.
Customize this line with so many ways to truly make it your own!
Beta BioThane has a soft look and feel, much like leather but it is so easy to keep clean; simply wash with mild soap and water. The added bonus is it is waterproof and will not absorb odors!  
Materials:  This line is made from standard weight Beta Biothane, with a bolt snap closure.  For water loving pets, we recommend choosing stainless steel or brass hardware for maximum durability. The rainbow, rose gold, and black
hardware 
are nickel plated steel and may chip over time.
Safety: We try our best to source the most durable materials for our products but for the safety of your pet please inspect your products often for signs of wear and tear. We are not responsible for injuries that result from improper use of our gear. We stand behind all our products, please contact us with any issues!  


Everything I Wanted!!
I had been looking for a long lead with a traffic handle since we adopted our boy in July 2021. We have been through many long leads - rope, nylon, and retractable and they didn't last. Our dog is an anxious/excitable walker, so, we do a lot of sniffy walk. He needs the long lead, but the traffic handle helps when other dogs approach so that he is by my side and not trying to get near others.
The only downside in the material is that it is slippery when wet and with a a dog who wants to pull and my hands sometimes struggle with gripping it when we approach other dogs. I've bought a pair of weight lifting gloves (fingerless) for the warmer months so that I have a firmer grip.
I would recommend this brand to anyone! They are durable, they clean well, have so many colours/options, and are quite comfortable to work with especially for the dogs who like to have more room to explore safely.
Pics attached of our boy, Jed. He doesn't stop much when walking to get one with him face on with the lead.
Another amazing order from Get Dirty
I am always so impressed with quality of products I have received from Get Dirty. I love the endless color choices and hardware options. I will always order my biothane from Get Dirty. Love supporting this small business!
Love Get Dirty!
Love my new leash and collars! So many beautiful color choices! This was a repeat order and I WILL be placing more orders in the future! Thanks, Get Dirty!