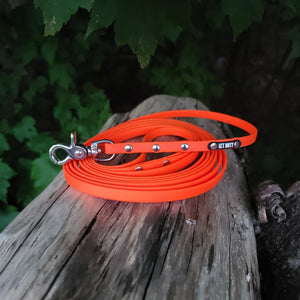 Made with the easy to use trigger snap , this Biothane leash offers a quick release option that stands up to heavy wear and tear.  This is the perfect line for puppy training, walks on the trail, the beach, camping, or anywhere you can think of where you want to give your dog a little room to roam but need to keep them under control. 
The width of this long line makes it perfect for puppies, tiny dogs, and cats, yet still suitable for well mannered larger dogs.  We do caution using this on dogs over 30 pounds if they are heavy pullers.
Customize this line with so many ways to truly make it your own!
Are you concerned about the weight of the clip for you tiny dog or cat?  Choose the baby trigger snap for the perfect size and weight for your little one. 
Beta BioThane has a soft look and feel, much like leather but it is so easy to keep clean; simply wash with mild soap and water. The added bonus is it is waterproof and will not absorb odors!  
Materials:  This line is made from standard weight Beta Biothane, with a trigger snap closure.  The trigger may not be suitable for very small dogs as it does carry a bit more weight than our other clip types.  For water loving pets, we recommend choosing stainless steel or brass hardware for maximum durability. The rainbow, rose gold, and black
hardware 
are nickel plated steel and may chip over time.
Safety: We try our best to source the most durable materials for our products but for the safety of your pet please inspect your products often for signs of wear and tear. We are not responsible for injuries that result from improper use of our gear. We stand behind all our products, please contact us with any issues!  

Production time: 1 to 2 weeks from order date. This does not include shipping time.
So light for unpredictable leash management!
I participate in a lot of dog sports such as scent detection where dogs are typically on leash for searches. This thin length of clean, bright biothane is exactly what I'm looking for!
Compared to fabric it does not grind or hook while navigating around objects, making it a treat to focus on the dog while working.
Love 2 Tone
This sturdy leash is exactly what we needed to keep our puppy safe! It is lightweight and the snap really is easy to release. The two tone makes it east to find the handle and the snap ( plus it looks great)
great quality, great customer service
Long line with hands free
Having the hands free option is great with the 10" length is great because it is about 6 foot if you wrap it crossbody. I like it for when I need to walk two dogs and have to scoop poop, I don't have to worry about the leash slipping. I can also change it to a regular long line when there is room for more freedom in the city. Seafoam green with gold is sooooo pretty. Thank you!
Hands free long line
I ordered the 10" line with the hands free option. It is great when I'm walking more than one dog and I don't have to worry about the leash slipping or juggling two dogs while picking up poop. It's well made and the seafoam green with gold is just beautiful. I bought a regular 6" leash for training as well. 💜