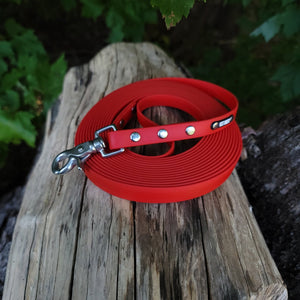 Made with the easy to use trigger snap , this Biothane leash offers a quick release option that stands up to heavy wear and tear.  This is the perfect line for training, walks on the trail, the beach, camping, or anywhere you can think of where you want to give your dog a little room to roam but need to keep them under control.   
The width of this line is great for medium to large sized dogs.
Customize this line with so many ways to truly make it your own!
Beta BioThane has a soft look and feel, much like leather but it is so easy to keep clean; simply wash with mild soap and water. The added bonus is it is waterproof and will not absorb odors!  
Materials:  This line is made from standard weight Beta Biothane, with a trigger snap closure.  For water loving pets, we recommend choosing stainless steel or brass hardware for maximum durability. The rainbow, rose gold, and black
hardware 
are nickel plated steel and may chip over time.
Safety: We try our best to source the most durable materials for our products but for the safety of your pet please inspect your products often for signs of wear and tear. We are not responsible for injuries that result from improper use of our gear. We stand behind all our products, please contact us with any issues!  


Excellent product!
I love the features on this line, it's why I went with this company. She communicated why she was delayed in sending our order and then enclosed a thank you gift! Great customer service and so very thoughtful!
Love the long line!
The long line works great in all weather - but especially appreciate it in the rain or snow because it doesn't absorb the moisture and it glides along the ground as my dog runs through streams, woods, etc.